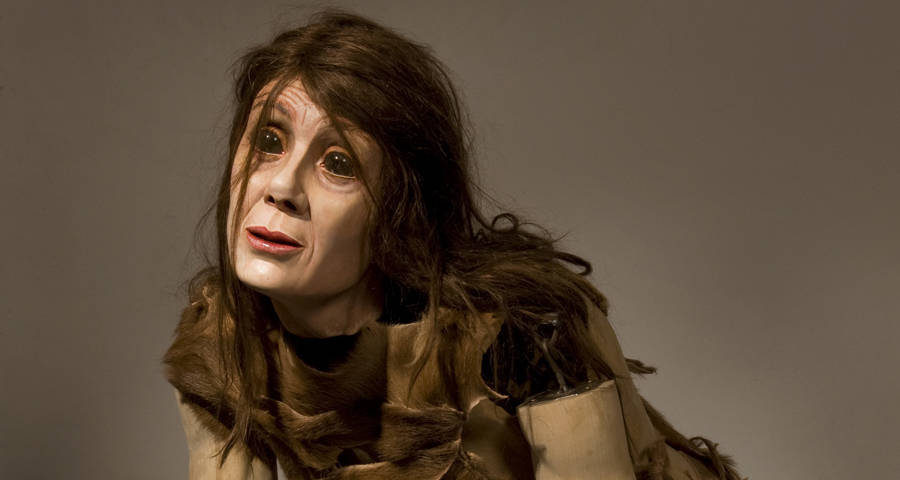 There are Receivers in the woods
The role of the Receiver is to lie in wait for whatever it is – it, she or he is primed to receive. There is a suggestion of stasis or even of passivity and lack of choice as to what is being received. The automaton "Receiver" has something about it of the lost hermit, a recurrent figure in the work since 2001; like the artist the hermit is positioned inside but always outside society, watchful and reflecting back.
It was the experiences of a voice-hearer whom Adams interviewed – who said hearing voices felt like picking up peoples' thoughts on the air – that brought about a connection in her imagery between the lone hermit looking heaven-ward and wireless technologies sending out endless streams of information. Now more than ever the ether could be said to hold intelligence that could be life-transforming. While masts call out from the hilltops, satellite dishes reach to the sky like boney believers hungry for a crumb of celestial knowledge. Adams writes:
"I am interested in the locations in which the organic and the mechanical find an uneasy relationship, as a child I remember being slightly terrified of my mother's old monkey glove puppet made of fur and glass eyes.

Becoming machine is something we may all be fearful of, loving technology that is cleverer than us as we do. Another delicious childhood anxiety of mine was the 1970s science fiction tv drama "The Changes" in which an ancient god uses pylons to broadcast directly into people's minds the necessity to smash up all machines. On the other hand in George Orwell's 1984 while the two main characters believe they have found complete freedom to explore each-other's bodies in the wild woodland, that is where they are most likely to be under technological surveillance."
The exhibition is supported by an Art Council of Wales Creative Wales Award and a Chance to Create Award funded by the Rural Development Plan for Wales 2007 – 2013 which is financed by the European Union and the Welsh Assembly Government.
Featuring these works...