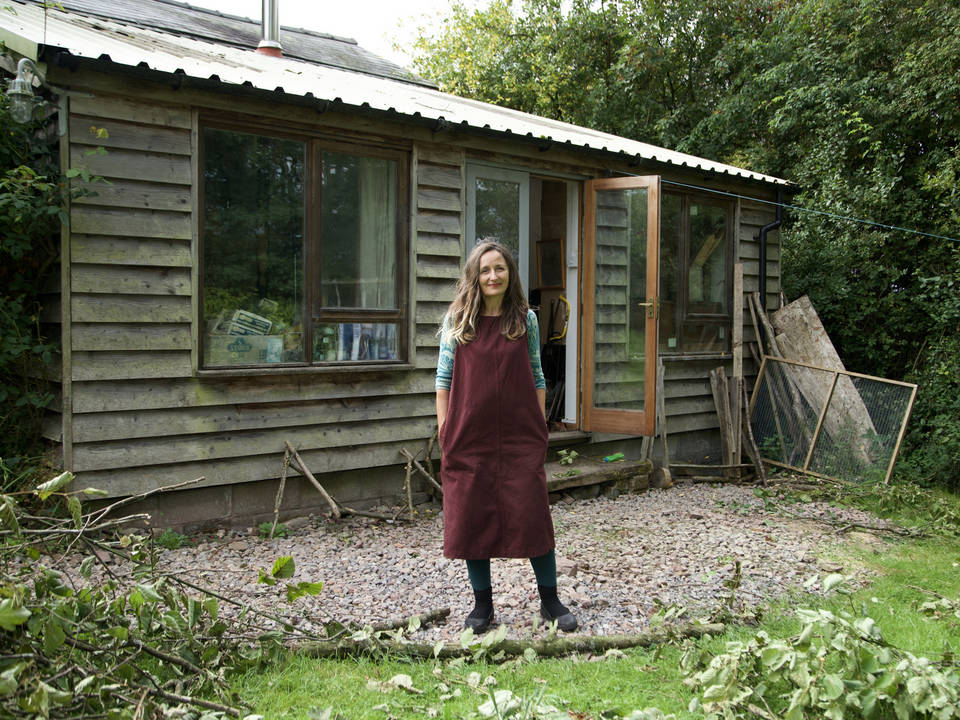 I studied painting at Norwich School of Art and the Slade, going on to study Electronic Arts at Middlesex University. I use a range of media including drawing, painting, printmaking, sculpture and video. I have lectured widely and held a number of Artist in Residency positions including those at Gloucester Cathedral, Millay Colony for the Arts New York, Welsh National Opera, Bardsey Island and Shaftesbury Abbey.
I am interested in exploring the relationship between fantasy and reality and the locations in which these two worlds collide. I am drawn to effigies of the living, uncanny, half-alive objects such as puppets, automata, figures that were made with a specific purpose in mind such as to embody religious beliefs, entertain a child or tell a story. Creative exchanges with writers continue to provide a source of imagery, worlding a third space created through collaboration.
Photo credit: Siôn Marshall-Waters
Riddle, reality. For Susan Adams "reality" is important. It's important that things look like things, that her carved and painted people resemble real people, that the ordinary resembles the ordinary, the matter of fact. Her brush, her pencils, her chisels, love the real, the look of it, the feel of it, the weirdly intimate particularity of it. But the real for Adams is very wide and unpredictable: it includes in its remit birds with human heads, amputated arms with wheat or aerials growing out of them; fracturings, dismemberings, ghosts, hovering stones, speaking marionettes. The fantastical, in other words, is every bit as at home here as it might have been for some medieval scribe or map-maker.

EDUCATION
2004-2007
Cardiff University
PGCE Post Compulsory Education
1998-2000
Middlesex University
MA Electronic Arts
1990-92
Slade School of Fine Art
Postgraduate Diploma Fine Art, Painting
1986-89
Norwich School of Art
BA Hons Degree Fine Art , Painting, 1st class
1985-86
Maidstone College of Art
Foundation Course in Art & Design
AWARDS RESIDENCIES COMMISSIONS
2023 - Atelier Outotsu
Artist in Residence
2022 - Boom Cymru Television Production
Commission - Yr Amgueddfa portrait marionettes, carved wood
Lifting the Lid II
Commission - Exhibition catalogue design
2020 - International Opportunity Fund Award, Wales Arts International
2019 - Community Befriending
Commission - Animation for Hepburn Photography
2018 - Peak Horsebox Commission
Abergavenny Food Festival
2014 – Creative Wales Award
Major Award from the Arts Council of Wales
2011 - Wales Arts International
Travel Award, Venice Biennale
Edinburgh Printmakers
Artist in Residence
2009 – Chance to Create Award
Research Grant, European Union & Powys County Council
2007 – Good Ideas Residency
Cywaith Cymru, Project with voice-hearers in Wales
2006 – Benenden School
Artist in Residence
2004 – Creative Wales Award
Award from the Arts Council of Wales
2003 – Shaftesbury Abbey
Artist in Residence
2002-03 – Welsh National Opera
Commission/Residency, orchestral performances for schools
2002 – Bardsey Island – Ynys Enlli
Artist in Residence
Oriel Mostyn
Artist in Residence
Plas Newydd Llangollen
Artist in Residence
2001 – Millay Colony for the Arts, New York USA
Artist in Residence
2000 - ICCD, Kerala, India
Artist in Residence
1998 – Arts Council of Wales Artist's Bursary
Research/Travel Grant
1996-97 – Gloucester Cathedral
Artist in Residence
1996 – Arts Council of Wales Travel Award
to study the religious art of Mexico
1994-95 – Anderson Ranch Arts Center, Colorado, USA
Artist in Residence
1994 – ArtsAcre, Calcutta, India
Artist in Residence
1991 – Canadian Airlines & Royal Overseas League
Travel Awards, Canada
OTHER RELEVANT WORK
2018 – 2019 – Lead Creative Schools
Creative Practitioner
2017 – 2018 – University of South Wales
Associate Tutor, Art Practice
2011 – 2017 – Cardiff Metropolitan University
Lecturer, pt, Fine Art
Sky Arts
Art Workshop Leader, Hay Festival
2008 – 2009 – Hereford College of Arts
Part-time Lecturer, Fine Art Degree
Aberystwyth Arts Centre
Children's Art Workshop Leader during
Something Funny in the Woodshed exhibition curated by Susan Adams
Carmarthenshire College
Part-time Lecturer, Art & Design Access Course
2001-02 – University of Glamorgan
Part-time Lecturer, Art Practice and Media Degree
Swansea Institute of Higher Education
Visiting Lecturer, Fine Art, Painting Degree
2000 – Glynn Vivian Art Gallery, Swansea
Children's Art Workshop Leader
1999-00 – Swansea Institute of Higher Education
Lecturer,Foundation Course in Art & Design
1998-99 – University of Glamorgan
Lecturer,pt, BA Hons Art Practice
1995-96 – University of Wales College Newport
Part-time Lecturer, Graphic Arts Degree
1995 – UWE, University of Glamorgan
Visiting Lecturer
1992-93 – Cheltenham & Gloucester College of Higher Education
Fine Art Fellow, part-time Lecturer Fine Art Painting

BIBLIOGRAPHY
2022 - Lifting the Lid II exhibition catalogue, essay Dr F Woodley
2021 - Repercussions : A Correspondence Susan Adams, Jo Mazelis
2018 - Vis-á-vis : Contemporary Welsh Artists respond to images of Women in the University of South Wales Museum Collection Editor & Curator: Dr F Woodley
2015 - Interview Culture Colony, 30 minutes
2011 Susan Adams catalogue, essay by Lyndon Davies
Import/Export Swansea Printworkshop – Edinburgh Printmakers catalogue
Planet feature There are Receivers in the Woods MOMA Wales
2009 They leak through me – a visual exploration of the hearing of voices - book design and print
2006 Duke Bluebeard's Castle Images by Susan Adams based on the Libretto for Bartók's opera by Béla Balázs, published by The Old Stile Press
2004 A Tale told by an Idiot: Prints by Susan Adams, Sean Harris & Chris Nurse, essay Ann Jones
2003 Fragments of St Iwa Artist's book, woodcut images and text Susan Adams
2003 Planet : The Welsh Internationalist cover image, Rex Harley on Susan Adams
2002 New Welsh Review cover image, text Tony Curtis
2001 Something funny in the woodshed catalogue, text by the artists & Hugh Adams, Howard Gardens
1997 Proposals for Saints exhibition catalogue, Clare Rendell on Susan Adams
SOLO EXHIBITIONS
2019 - Tivoli Fish Bar
Chapel on the Green, Glasbury on Wye
2018 - The Little Cage
Peak Horsebox Commission, Abergavenny Food Festival
2017 - Up Ship Street
The Hours, Brecon, solo exhibition and event featuring writers
Jo Mazelis and Lesley Saunders
2013 - Growth
Attic Gallery & Project Space, Cardiff
2012 – Welcome Machine
Oriel Mwldan
2011 - There are Receivers in the Woods
MoMA Wales
2009 - They leak through me
Hearing Voices International Congress Maastricht
& Oriel Myrddin
2004 - Fragments of St Iwa
solo exhibition, Arts Council of Wales Gallery, Cardiff
2003 - Waiting for Something
Ruthin Craft Centre & Oriel Mostyn
Fragments of St Iwa
Shaftesbury Abbey, Dorset
2002 - Nestlings
Plas Newydd, Llangollen
1998-9 – Proposals for Saints
Gloucester City Art Gallery, The Eich Gallery Hull, Glynn Vivian Art Gallery, Swansea
1997 - Breath of Walls
Gloucester Cathedral
1995 - Theatre of Love
Oriel Y Bont, University of South Wales
SELECTED GROUP EXHIBITIONS
2022 - BEEP International
Elysium, Swansea
Other Worlds
MADE, Cardiff
Lifting the Lid II
Oriel Y Bont, University of South Wales
Eisteddfod Y Lle Celf
selected exhibition (also 2008-2013 &2001)
2021 - Imagining History
Oriel Y Bont, University of South Wales
Summer Open
MADE, Cardiff
2020 - Annual Open Exhibition
Royal West of England Academy
2019 – Y Lle Celf, Eisteddfod
Gogoneddus Ych-a-Fi Glorious Disgust
Contemporary Surrealists in Wales, Cardiff Metropolitan University
An Expanded View of Drawing
Group Exhibition, Riverfront Newport
Birds that eat purple flowers
Chapel on the Green, Glasbury, Legion Projects
Vis-á-vis : Contemporary Welsh Artists respond to images
of Women in the University of South Wales Museum Collection
Oriel Y Bont, Curator Frances Woodley
Offering
Collaboration with Sue Hunt, St Edwards Church, Cardiff
2016 - Nonarchy
Undegun, Wrexham and Made in Roath Festival, Cardiff
2015 - Funny Ha Ha
Burghley Sculpture Garden
2013 - How the Light Gets in
Bay Art, Cardiff
2012 - Printmaking Biennale
St David's Hall Cardiff
2011 - Frederick J Fredericks
Craig y Cilau Caves, Brecon Beacons National Park
Import / Export
Edinburgh Printmakers & Swansea Printworkshop
Mostyn Open 2011
Oriel Mostyn
Artemis
St Davids Hall, Cardiff
2010 - Printmaking Biennale
St Davids Hall Cardiff
2008 - Sculpture in the Garden
Hergest Croft, Herefordshire
2007 - Parc Life
Penpont, Powys
2006 - Contemporary Arts Society Wales
Acquisitions National Museum of Wales
2003 – A tale told by an Idiot
3 person print show – MOMA Wales
2002 – Cinema Texas International short film festival
screening of Searching in Sleep
Artists-in-Residence at Gloucester Cathedral
Gloucester Cathedral
Reflections of Holiness
St Mary Woolnoth, London EC3
2001 - Wales : Unauthorised Versions
The House of Croatian Artists, Zagreb, Curator: Alex Farquharson
International Print Biennial
Wrexham Art Centre (& tour)
Something Funny in the Woodshed
(curator & exhibitor)
Howard Gardens Gallery, Cardiff
Aberystwyth Arts Centre
2000 - Digital Group Show
Candid Gallery, London
Exploding Cinema
London, screening of And in the Morning
Housing and Homelessness
Candid Gallery, London (curator: London Arts Cafe)
1998 – Fantastico!
Gallery Fresh, London
1997 - The Print Fair*
The Armory, New York City, USA
1996 – Artists' Books
Glynn Vivian Art Gallery, Swansea
The London Original Print Fair*
Royal Academy of Art, London
The 9th International Women's Studies Conference
2 person show, University of South Wales
1995 - Artists in Residence Show
Anderson Ranch Arts Center, Co. USA
The Print Fair
The Armory, New York City, USA*
1994 – Woodcuts and Paintings
ArtsAcre, Calcutta, India
The Contemporary Print Show Part 2*
Concourse Gallery, Barbican
SAGA, FIAC Edition*
Paris, France
1993 – The London Original Print Fair*
Royal Academy of Art, London
The Arthur Andersen Art Award Exhibition London
Cheltenham School of Art Fellows Exhibition
Pittville Gallery, Cheltenham
The Contemporary Print Show*
Concourse Gallery, Barbican, London
Radhusgalleriet*
Ystd, Sweden, Group Show
Group Show
Flowers Graphics, London
1992 – 3rd Print Biennale of Amadora Portugal*
Artists' Choice
Flowers East, London
Recent Graduates
Smiths Gallery, Covent Garden, London
1991 – A View of the New
Royal Overseas League, London
*In affiliation with PRATT CONTEMPORARY ART