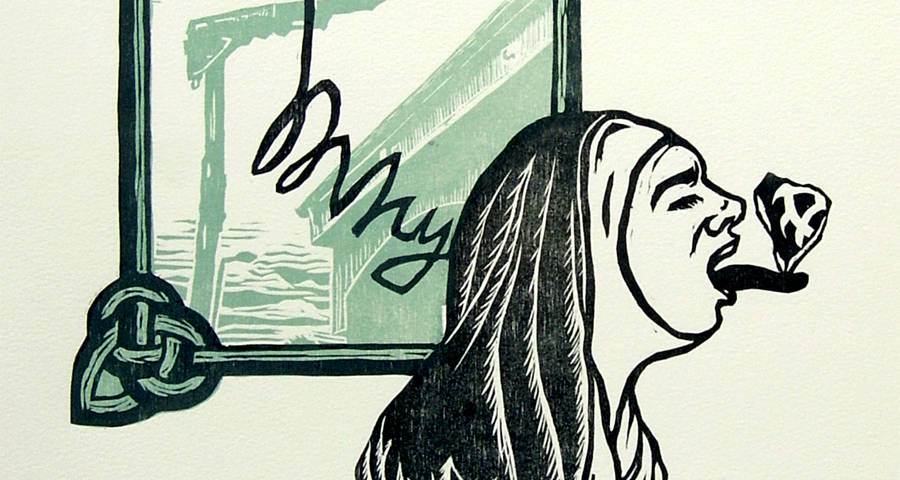 Fragments of St Iwa
"When I read about the residency at Shaftesbury Abbey with its special emphasis on 'a female history', I immediately thought of artist-as-detective, unearthing lost or suppressed stories. On arrival I was surprised to find that all that's left of the abbey barely comes up to your waist – the building had left the abbey. After the initial shock, the almost non-existence of the abbey becomes very interesting, it becomes an idea around which people gather, each individual bringing his or her own vision. The fact that the site possesses an aura of tranquil other-worldliness helps you to enter the arena of imagining.
The museum shelters an intriguing assortment of carved stone, broken tiles, bones, glass and even one Saxon moustache. As the foremost Benedictine nunnery, the abbey had housed some of Saxon England's most powerful and educated women. Within ten years of the dissolution of the monasteries, plundering had reduced the vast abbey to a pile of rubble. During the residency my working process involved gathering evidence, leaving clues and suggesting outcomes. I decided I would make a book based on the manuscripts that were probably owned by the abbey. I went to look at them at The British Library, the Bodleian and the Fitzwilliam among others. The book I made is a vehicle to discover St Iwa, an Anglo-Saxon saint whose story is interwoven with that of the abbey. Both narratives include journeys, miracles and treacheries and end in plunder and fragmentation.
I am interested in the idea that a physical fragment can only be completed in imaginary space; a piece of broken floor tile will always be surrounded by the ghost of its wholeness, and probably the ghost of the building in which it lay. Perhaps the fragment of a story also yearns for its completion.
St Iwa's life story is similar to her contemporary saints' lives. She experiences visions in which martyrs appear to her; the hands of her aggressors drop off before they can defile her; another aggressor is branded by fire. She takes to the sea and is thrown overboard, only to end up on an island where she is not welcome. It is there that she is martyred and her body miraculously finds its way to Shaftesbury Abbey. Though the cult of St Iwa at Shaftesbury is pervasive it is short-lived. When Edward the Martyr becomes the big attraction she decides it is time to leave and transforms her relics into a heap of stones. Within a few years St Iwa is all but forgotten. NB: St Iwa should not be confused with St Ia who according to the Penguin Dictionary of Saints, 1966, sailed from Ireland on a leaf." Susan Adams 2003
Featuring these works...